Hi guys! Doing this meme after a reeeaaalllyyyy long time!
After a lot of passing onto other blogs, this meme is finally being hosted now by The Book Date. It's basically a weekly thing where you introduce a book that you're currently reading, what you've been reading over the past week or simply what you've been upto in general. I feel like this one of those tags for me, which I do more for myself in order to see how organised (or not?) I've been over the past week and to go over my bookish plans for the following week.
Kellee and Jen, of Teach Mentor Texts, decided to give It's Monday! What Are You Reading? a kidlit focus. If you read and review books in children's literature – picture books, chapter books, middle grade novels, young adult novels, anything in the world of kidlit. Coincidentally, a middle-grade book is what I was going to write about in this post!
Anyway, my hopefully next read for the week is:
A Place called Perfect by Helena Duggan
It is a middle-grade children's book and the cover instantly reminded me of Coraline by Neil Gaiman! It is honestly suchhh an intriguing cover. I first saw the book cover over at Pinterest and saved it to one of my book boards. Days later as I was in Liberty Books, I saw this book in paperback and knew I instantly had to buy this one!
Moreover, the book opens with a map of this mysterious town called "Perfect".
Book Synopsis:
Who wants to live in a town where everyone has to wear glasses to stop them going blind? And who wants to be neat and tidy and perfectly behaved all the time? Violet never wants to move to this town called Perfect.
But she quickly discovers there's something weird going on – she keeps hearing noises in the night, her mum is acting strange her dad has disappeared and she has been expelled from school.
When she meets Boy she realizes that her dad is not the only person to have been stolen away…and that the mysterious Watchers are guarding a perfectly creepy secret! 
Now isn't this very Coraline-ish??? I'm soo excited to read this one!
What I'm currently reading is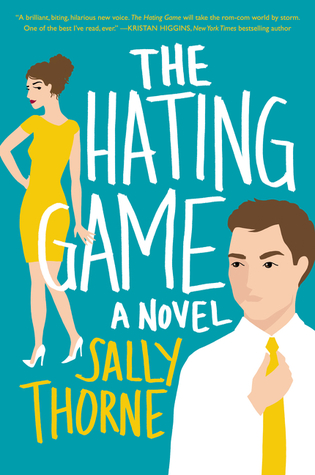 Emma is my required reading for a Jane Austen course that I'm taking this semester. We are done with volume 1 with huge amounts of discussions on it. We have read and discussed Mansfield Park and Sense and Sensibility in the previous classes, but so far, Emma is the one I'm truly enjoying. Maybe, it's because Emma is a very very different heroine than Austen's all other heroines. Plus, reading Claudia Johnson's critique and articles on Jane Austen's writing is like…..whooo over the top amazing! She justifies all the proposed problems by other critics who apparently hate Austen and her writing and seem to think that she was some lonely woman who had nothing to write about other than courtship, love and other domesticities. (Huh, read Mansfield Park you fools and then argue on this point!) 
The Hating Game by Sally Thorn is one of those books that are constantly being talked about on instagram and other blogs. It's one of those books which you read when your brain is bursting with pressure of studies and you just need some light chic-flick to lighten up your mood. I'm 10 chapters along right now, and so far it's nothing that I would call which would contribute to a 4-or-5 star read, although I am enjoying the humor and Josh Templeman ALOT.
It kind of just annoys me to read how insanely stupid Lucy is. She is very over-dramatic and immature at times, so that's kinda off for me. I love the cute banter between them, tho. (Shortcake, ha-ha)
So that's all for my upcoming week. If you guys have any secondary articles on Emma or any of Austen's critiques, please share it with me!
What are you reading this week?
Is there any required reading that you guys have for this year/semester? Are you enjoying it?
Until then, Happy Reading! xx