Truth be told, it's been ages since I've done a tag and I had this one poorly written with more than 3 answers for every question waiting to be edited in my draft, so I decided why not post this at 6 am in the morning because I have no classes at all today!!! (Rare satisfaction you get in university)
I'm lowkey tryna say that I don't remember where I saw this tag so have got no-one to tag but if you're reading this and I commented on this tag of yours, I LOVED THIS TAG AND THANKYOU FOR INTRODUCING ME TO THIS.


Haruki Murakami: I can gush about his Norwegian Wood for paragraphs, but klet's not dive into that AGAIN. Read my book review here and fangirling about him here. But no seriously, the story, plot, themes and the characters are so relate-able that I hardly think there is going to be a college student out there who reads this book and doesn't end up falling into the vicious hungry-wanting-more-Murakami cycle.
Victoria Schwab: This person writes like magic!! Seriously, have you read The Savage Song??? she makes it totally doable for Young Adult books to be best-sellers WITHOUT EVEN A TOUCH OF ROMANCE. Zilch. No forced love triangles or anything of the sort. Amazing.
Robin Benway: Oh, Far From the Tree was an absolute delight! When I read the book, I couldn't believe it was a debut novel because it was so well-written! Amaze. Blown away. Goals. I want to write like herrrrr.

Umm, every Nicholas Sparks movie ever? lol. I don't think I have it in me to read ultra-tragedic novels.
The girl on the Train : ok so basically I read like quarter of a book. It was all descriptions and nothing actually happening for the major chunk, so I thought I might as well just watch the movie.
Vanity Fair: I really wish I had read the novel first because I somehow feel that the movie ended really abruptly. I had so many unanswered questions in mind and the conflicts were solved almost too easily. But Reese Witherspoon did a good job so applause for that!

Midori from Norwegian Wood, ofcourse. I've never found a character THIS relatable!
Elizabeth Allen of The Naughtiest Girl Series by Enid Blyton. No matter how old I grow, I think I'll forever look up to the bold, bad, brave girl! You know how there are some characters who leave such a profound effect on you, and you don't even realise it until you re-read the book and get so soaked up by the positive energy radiating from the book and the characters that YOU.JUST.CAN'T.EXPLAIN.
Joaquin from Far from The Tree. He is an absolute sweet-heart!

Thing is, I don't binge-read. Ever. Binge watch shows on Netflix, suurreee. Like all the freaking time, but never binge-read loool. So I'll just tell you the shows I binge watch, yeah?
Ofcourse, F.R.I.E.N.D.S tops the list anyday, anytime. I can watch friends 24/7, 365 days of the year and never get tired!
I have binge watched White Collar a lot! Just love the quirkiness between Neal Caffrey and Agent Peter Burke, and the wittiness with which Caffrey solves all the cons. The greatest con-artist-turned-fbi-agent-assistant is a show you all need to see!
And lastly, ofcourse, One Tree Hill. Who hasn't binge watched this teensy dramatic show? It is as dramatic and cheesy as it could get, but I still fall in love with Haley and Nathan everytime I watch it.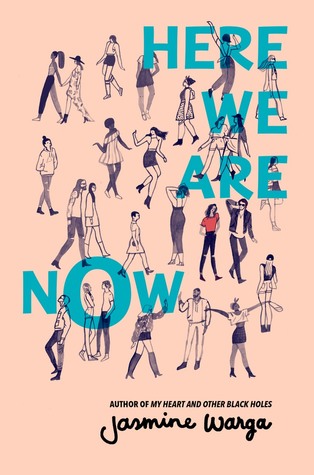 Here we are now by Jasmin Warga will top this list any-day. I can't understand what makes people so crazy about this book. I also don't understand why children reconnecting with parents has become such an emotional issue for readers. If you want to write about such topics, atleast make it realistic enough for people to relate. *rolls eyes*. Read about why I dislike this book so much here. 
  Oh boy, this was another not very favourite of mine chick lit. Full of stereotypes, cliche tropes (talk about falling for fake-boyfriend-turned-real and "you're not like other girls" stuff) this made me go like "wtf no way am i still reading this" BUT GUESS WHAT? I DID AND TILL THE WHOLE DAMN END.
My Rating:2/5
 Ugh, dont even want to talk about this. THAT ENDING WAS INFURIATING. Check out my review here! 
Ok this really can't be three, man. I'm dying inside!!!
Man, there are so so so many book-covers I'll give my life for. But I can't think of any atm. Aaah, sorry folks, it IS 6 am ok.
 What are some of your favourite book-covers or unpopular bookish opinions??? Chat with me down below! xx